16th November 18:30 Szkéné Theatre ('80)
Béla Pintér and Company
Dievouchka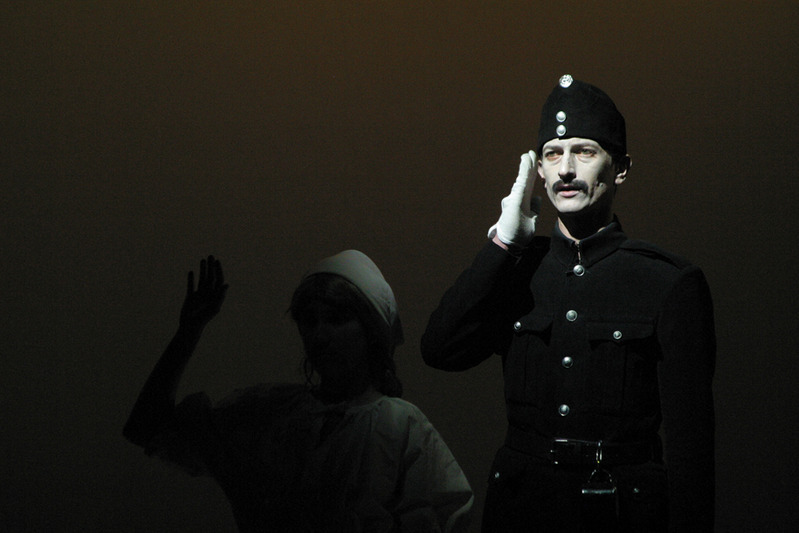 Béla Pintér and Company have worked together since 1998, establishing themselves as one of the most significant and innovative independent theatre companies in Hungary winning the Hungarian Critics' Award four times.. They are equally at ease with authentic Hungarian folk art and postmodern forms of theatrical expression. The company has created most of its productions at the Szkéné, an independent repertory theatre at the Budapest University of Technology and Economics, where it is now in residence. It was here that Béla Pintér trained as a dancer and performer working with some of the leading experimental theatre groups of the 80s and 90s. Since 2004 the company has been touring all around Europe.
Their shows were presented in Cardiff (UK), in Berlin, Stuttgart, Heidelberg, Hamburg, Leipzig (Germany), in Belgium, Finland, Holland, Switzerland, the Czech Republic, Serbia, Slovakia, Slovenia, Russia, Poland, Spain, Romania, Croatia and France. For the next years they have invitations to the USA, France and Germany. Dievouchka has appeared at the euro-scene Festival in Leipzig, and the Berliner Festspiele (2004), where it was nominated for the "Spielzeiteuropa-Werkpreis 2004".


In Dievouchka we see staff officers, officers, privates and Jews on forced labour,mingling with each other. It is them, who move the story forward in the army barracks, the dancehall and out in the remote and vast Russian steppe. Its presentation is elevated and all-black-and-white, both in the broad and the strict sense.
The time is World War II: however, the story-line, as opposed to giving an historic account, is merely an assumption of the epoch.
We created Dievouchka's particular musical style by blending elements of Puccini's late romanticism with operetta and radio hits of the day, some of which are emblematic even today.
Throughout the whole play we sing. What the audience sees, is no operatic work. It is pure theatre with actors, whose voices are far from being beautiful, pacing in an extremely measured, odd way.
We, who were born into perhaps happier times, with this work, would like to commemorate that ill-fated generation, who, just like us, cherished the hope of a brighter future.
'Everyone has got his Dievouchka'.

Béla Pintér
Captain Halász - Szabolcs Thuróczy
Second lieutenant Kovács - Tünde Szalontay
Soldier Mikó - Sándor Bencze
Soldier Nyíri - Tamás Deák
Jewish Labourer Heincz - László Quitt
Colonel Felkay - Béla Pintér
Jolánka, wife of Mikó - Éva Csatári
Aranka, wife of Nyíri - Éva Enyedi
Zsuzsanna, Colonel's daughter - Sarolta Nagy-Abonyi
Gizella, Colonel's wife, Zsuzsanna's mother, actress - József Tóth
German General, Von Ziege - Zoltán Friedenthal

Musicians:
piano - Antal Kéménczy
violin - Bertalan Veér
violin, guitar, precussion instruments - Gábor Pelva
violin, precussion instruments - László Nyíri
clarinet - István Kerti
trumpet - Géza Román
trombone - Lajos Kelemen
double-bass - György Póta

Costume: Mari Benedek
Set: Péter Horgas
Composer: Benedek Darvas
Assistant: Kriszta Kovács
Written and directed by: Béla Pintér


Premiere
: 5
th
of November 2003, National Theatre