16th November 20:00 Trafo - House of Contemporary Arts ('120)
Fortedanse
Kalevala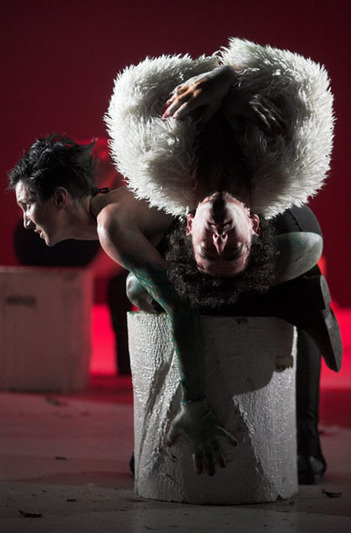 Fortedanse is a young company founded by director, choreographer Csaba Horváth in 2005. The group of actors and dancers is experimenting with a so far unknown form of expression in Hungary. Their aim is to create a new, homogenous language with the help of bodies, voices, dance, music and text. The genre of "physical theatre" thus redefined tries to think in a different way about storytelling, situation, scene-building, stage time, performance space, dramaturgy. It calls forth a particularly exciting and original method of acting.
Besides dance, other arts forms acquire a significant role within the company's performances. Their collaborators include internationally acknowledged scenographer Csaba Antal, and composer Nils Petter, both taking an active role in the creative process.
Although Fortedanse is still a young company their work has already achieved significant success judged by the reactions of audiences and professionals. Their performance, Kalevala, appeared in the program of the festival organised by the Union des Théâtres de l'Europe.
In close collaboration with the director, the ancient epic was rewritten by the young Hungarian poet, Balázs Szálinger. It attempts to create a clash between the mythical past of Kalevala and the technocrat world of the present, by taking on the "form of physical theatre". The transformation of the ancient roles and heroes and the ideas they represent called forth the need for redefinition. The classic opposites of spirit and matter, of artist and craftsman expand to a cosmic scale within the world of the performance, thanks to the music, the movement and the actors' and dancers' suggestivity.
Conceptualism is counterpointed by the constantly palpable transformation, the growing and vanishing body sculptures, the inner glow, and the reality of matter and spirit, which has not yet separated.
The ancient images of Kalevala, the primal human gestures, and the bodies and voices evoking the myth obtain a form of expression by stepping out of/becoming subordinate to time.
Máté ANDRÁSSY
Dóra BARTA
Borbála BLASKÓ
Nóra FÖLDEÁKI
Ottó Lajos HORVÁTH
József KÁDAS
Lehel KOVÁCS
Csaba KRISZTIK
Zoltán MUCSI
Gábor BORA
Tamás VATI
Vera SIPOS
Gizella ZARNÓCZAI

Dramaturg: Eszter GYULAY
Set design: Csaba ANTAL
Costumes: Mari BENEDEK
Music: Nils Petter MOLVAER
Sound: Zoltán KONDÁS
Lights: Ferenc PAYER
Choreographer-director: Csaba HORVÁTH
Opened: 4th April, 2008