14th November 19:15 Merlin Theatre ('70)
Bladder Circus Company
Jelizaveta Bam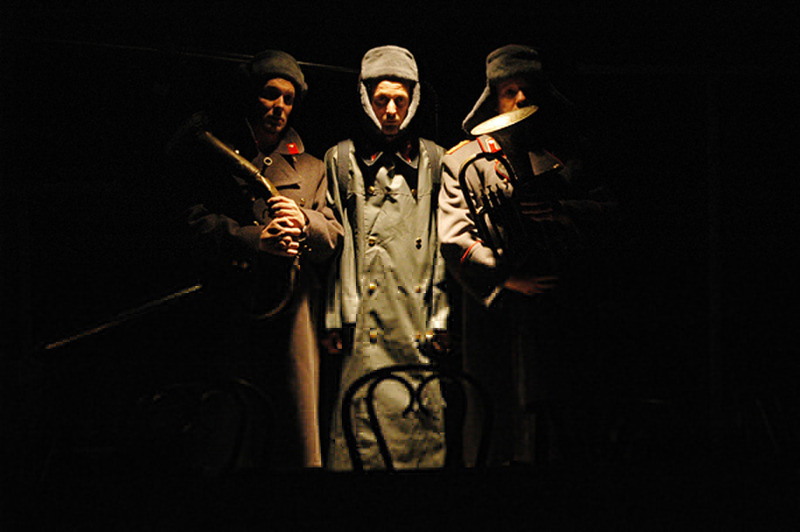 Bladder Circus Company was formed in 1997 by independent artists from the fields of classical music, theatre and fine arts. Over the years the members of the company developed a unique rehearsal method. The most important element of this is the elimination of the director's role from the rehearsal process. The texts are created by dramaturgical construing characteristic of the given performance, based on musical and literary materials. Hence the material of the performances is inalienable from the creators' persons, that is their plays can only be performed in the Company's language. This unique form of expression makes Bladder Circus Company a prominent group within the alternative theatre scene. Thanks to this unique image, they gained numerous national and international awards. Their shows balance on the boundaries of circus, performance, chamber opera, musical drama and the visual theatre of unusual musical instruments. Their name, Bladder Circus, was the title of their first and one of their most successful shows.

JELIZAVETA BAM
Based on the play of the same title and other writings by DANIIL KHARMS, the performance was created by the Bladder Circus Company.
The texts we used were translated by Bratka László, Keleti Éva, Kozma Sz. András, Klausz Ildikó, Rab Zsuzsa, Veress Anna
Cast
JELIZAVETA BAM - Fruzsina Eszes
MOTHER - Krisztina Urbanovits
FATHER - Szabolcs Szőke
IVAN IVANOVICH – Domokos Szabó
PJOTR NIKOLAIEVICH – Attila Rácz
IGOR IGOROVICH – László Nádasi
MAID – Zita Schnábel
TROMBONE PLAYER – Monika Kuncsner
FRENCH HORN PLAYER – Lilla László
Produciton design: Gábor Balla, Szőke Szabolcs
Music: Szabolcs Szőke
Ligths: Mónika Hlinka
One fine day they come, knock on your door and take you away. Who are they? Nobody knows. What do they want? Nobody knows. What have you done? Nobody knows. There's no way out. One of the greatest figures of the Russian absurd, Daniil Kharms, is not a newcomer in the repertory of the Bladder Circus Company. Their latest show is also depicting the absurdity of being defenceless and threatened. The exciting division of the playing area, the special sound-structures and the surreal scenes themselves offer an endless number of associations. Although the pressure of the unnameable authority, which enters the life of the play's heroine, could be of various different sorts, still it seems more and more as if hunters and prey would be old acquaintances.